In order to provide each customer with an outstanding experience, we offer free in-home delivery in the Greater Denver Area with any purchase! If you have a couch to donate, we'll take away your old couch free of charge!
Good for your wallet, Good for your community, Good for your home
The Good Couch is a used furniture store located in Northglenn, Colorado that specializes in the refurbishment and sale of used couches, loveseats, sectionals and sets.
We are a green-focused business with a mission to reduce furniture waste. Rather than allowing used couches to end up in landfills, we refurbish and find them a great new home.
Our goal is to provide quality used couches for sale at an affordable price. Utilizing our  5-step restoration process, we ensure that every piece of used furniture is exceptionally clean and structurally sound.
A portion of our proceeds at The Good Couch are donated to the Colorado Coalition for the Homeless in order to give back to the community.
Why Buy From The Good Couch vs Craigslist
Here are a few reasons why you should be shopping for furniture with The Good Couch and not browsing Craigslist, Offer Up and the other peer to peer marketplaces:
No Stranger Visits
No traveling to strangers' homes to purchase a couch. Often you will find the couch isn't in the condition described, leaving you with wasted time, gas and energy.
Professionally Cleaned
Our couches are thoroughly cleaned. No need to worry about stains or bed bugs!
Guaranteed Good Condition
All of the refurbished couches at our used furniture store are in good condition. You won't have to worry about hidden damage, or a couch that may fall apart.
Business Hours and Location
Used Couches for Sale with Free Local Delivery in Denver
Stop by our store to shop our large selection of couches, loveseats, sectionals and chairs!
8475 W Colfax Ave.
Lakewood, CO 80215
Mon-Fri: 9AM-6PM
Sat: 10AM-4PM
Sun: Closed
Why Buy From The Good Couch?
The Good Couch is a better alternative than other used furniture stores for finding used couches for sale. We're more trustworthy than shopping on online marketplaces such as craigslist, more affordable than traditional used furniture stores in Denver, and a more convenient alternative than shopping for furniture at thrift stores.
With our 5 step furniture refurbishment process, you can rest assured that your couch has been thoroughly cleaned and repaired, allowing us to provide cheap couches that are high-quality. Because we are a used furniture store in Denver specializing only in couches, we can offer a better selection at a better price with comparable quality and free delivery. Rather than having to shop at multiple Denver used furniture stores, come to The Good Couch  where we have over 50 used couches for sale to fit your needs and budget.
Due to the nature of used furniture, some of our couches come from a pet friendly home. We have strict policies on smoke friendly or soiled couches, but we realize that many homes do have pets and some homes have allergies. This is why we are always upfront about whether each of our used couches we have for sale comes from a pet friendly home.  Any notable flaws that are unable to be fully repaired during our refurbishment process are detailed in the description of the sofa.
Donate and Enjoy Our Free Couch, Loveseat, and Sectional Pickup
If you have a couch, chair, or sectional that is no longer needed, give us a call! Visit our furniture donation page and fill out our pickup form. A team member will reach out within one business day to schedule a time that is convenient for you. We take away unwanted used couches as a free service. We will even move it out of the home for you if needed. While removal companies cost money and add to the landfill, we try our best to refurbish almost any used couch. We will pickup any couch in any condition. If your couch is in irreparable condition or requires extensive repair, we charge a small refurbishment fee. We can typically schedule pickups within one to two weeks. Best of all, in return for each unwanted couch that we take in, we give a monetary donation to Colorado Coalition for the Homeless regardless of whether we sell the couch. Donate your couch today!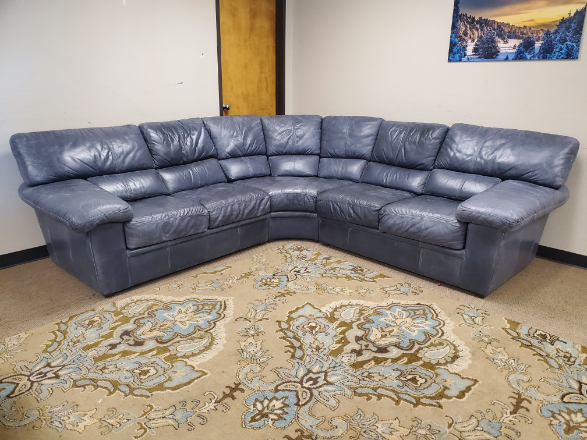 One of our first deliveries after we opened our first used furniture store in Denver was to a man who had just gotten into permanent housing. We did not know his story until we arrived at the delivery, and were delighted to find that our prices were low enough for him to afford. Our free delivery service was an added bonus for which he was extremely appreciative.
While we have used couches for sale for every income level, we never forgot about that delivery. We have seen rising home prices in Denver push many on the margins to have to be more resourceful with their money just to keep a roof over their head. We decided we want to give back to the community in a meaningful way. That is why we decided to partner with Colorado Coalition for the Homeless. They help get families and individuals off the streets and into temporary housing while providing a range of other opportunities and resources. We want to be known as the used furniture store in Denver dedicated to helping provide cheap couches that still look great, are clean, and are comfortable.
At The Good Couch, we are always thinking outside the box. We have had to utilize this method of thinking on many difficult couch deliveries in order to get the couch where it needed to go. This sparked an idea to demonstrate to the world just how good we are at delivering the used couches we sell. We decided to carry a couch 7 miles, to the summit of the tallest mountain in Colorado and in the entire Rocky Mountains. Not only did we carry the full sized couch up 4,700 feet of elevation over 7 miles from 10,000 to 14,000 feet, but we also carried it the 7 miles back! It took many hours, but we never even considered leaving the couch at the top, because this would go against everything we stand for and why we believe in the reused market.
Not wanting this historic 16 hour round trip journey to be accomplished for only our own glory, we decided to make it a fundraiser for Colorado Coalition for the Homeless. Aiming to raise one dollar for every foot of elevation gained and lost during the hike. We did not fully accomplish our goal, but since beginning our partnership, we have been able to raise thousands of dollars for Colorado Coalition for the Homeless.
Make sure to check out our Facebook page
 and YouTube Channel